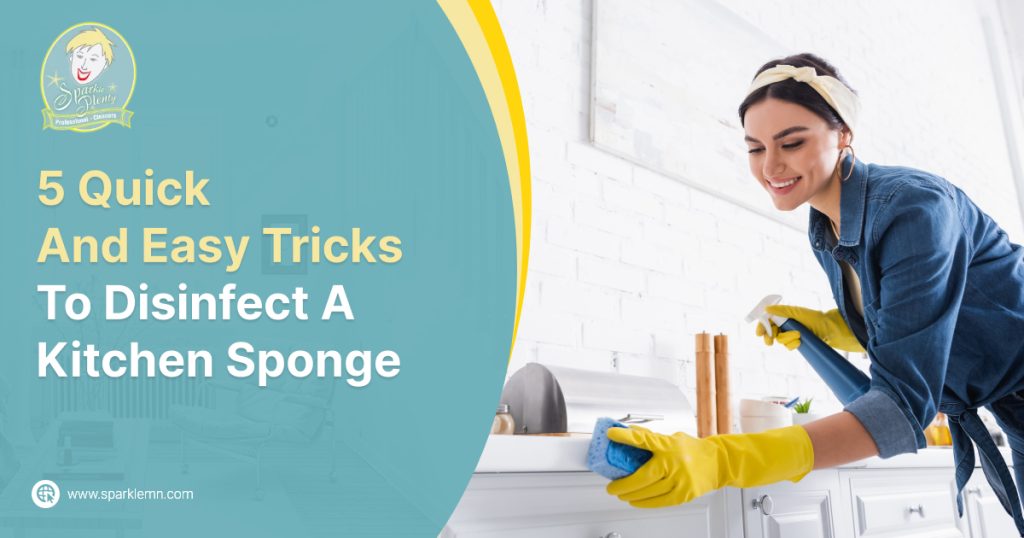 Cleaning your kitchen sponges after each use is a good practice. However, using only water and soap won't eliminate all the germs hiding in your sponges.
Is it difficult to rid your sponge of germs? Not at all! Here are five methods to eliminate all the bacteria in just a few minutes.
Trick #1 Microwave
Bacteria can't stand high temperatures, and the microwave is an excellent appliance for that! So, pop your kitchen sponge dripping in water into the microwave and heat it for five minutes. Then, let the sponge cool down and wring it out.
Warning: Don't use this method if your sponges have plastic or metallic fibers. The fibers could melt or make sparks fly in the microwave—nobody wants that mess!
Trick #2 Boiling water
Boiling water is another great option for eliminating bacteria! All you have to do is boil water in a pot, put in the sponges, and let it simmer for five more minutes. Let everything cool down, and then wring the sponges.
However, as easy as this is, be careful when handling the pot and sponges to avoid burning yourself!
Trick #3 Dishwasher
Another safe option to remove germs in your kitchen sponges is to put them in your dishwasher.
Place the sponge inside the dishwasher and run a heat-dry cycle—you don't even have to fill the detergent compartment—and let the appliance do the work. Once the process is over, the sponges will be ready for another cleaning round.
Trick #4 Diluted Bleach
Bleach is one of the most popular chemicals used for disinfection, and it's for a good reason: this is a strong product that kills cells, so it is sure to eliminate all the germs hiding in your sponges. In this case, you need to dilute the bleach, so it's safer to use.
Mix one gallon of water with ½ a cup of bleach and throw your sponges into the solution. Leave them to soak for five to ten minutes, and rinse them once you take them out. It's that simple!
Warning: although diluted, bleach is still corrosive and can be harmful. Remember to wear gloves and not leave bleach unattended while waiting for the sponges.
Trick #5 White Vinegar
Full-strength vinegar is a milder option for a disinfectant if you don't want to take too many risks. However, this is still an agent strong enough for the job.
The best part of this method is how easy it is. Just soak the sponges in vinegar for five minutes and rinse them with clean water once the time's up. Don't forget to wring them well to avoid them staying dripping.
You don't have to do all the chores!
Keeping the rest of the home is a tall order; why not let the pros handle it? Sparkle Plenty Cleaners offers high-quality cleaning services in the Twin Cities, so you don't have to worry about taking care of all your cleaning chores by yourself.